Use coupon 'rsgambling' for free 1M OSRS
Runechat is without a doubt the most popular Runescape gambling site out there.
With hundreds of players tuning in daily from all different timezones to take part in the variety of games
there are to choose from on the site. RC hosts pretty much the biggest and most popular games there are.
From table games such as Blackjack, War and Roulette all the way
to Crash, the game that took the CSGO gambling scene by storm.
Runechat has it all.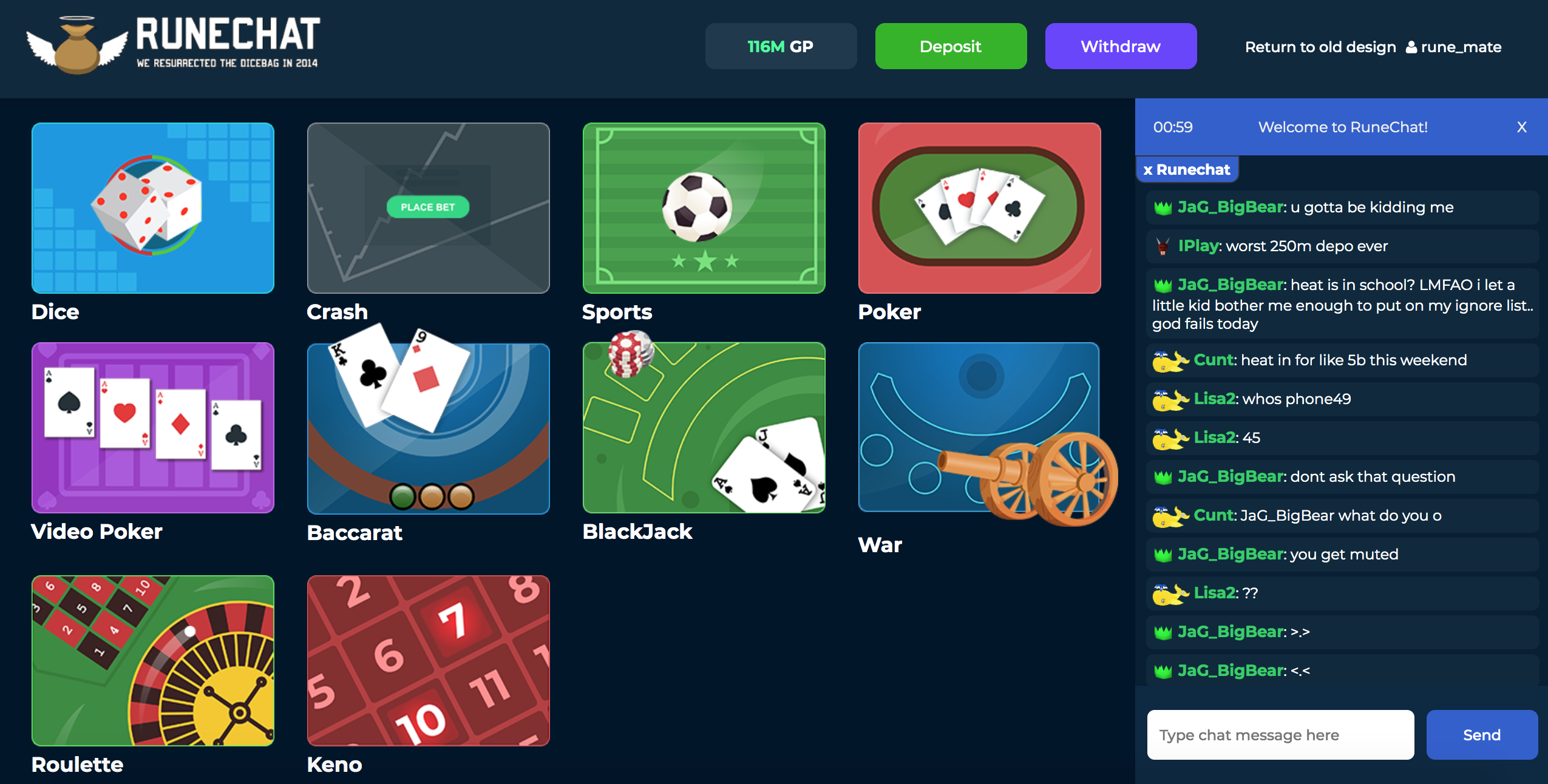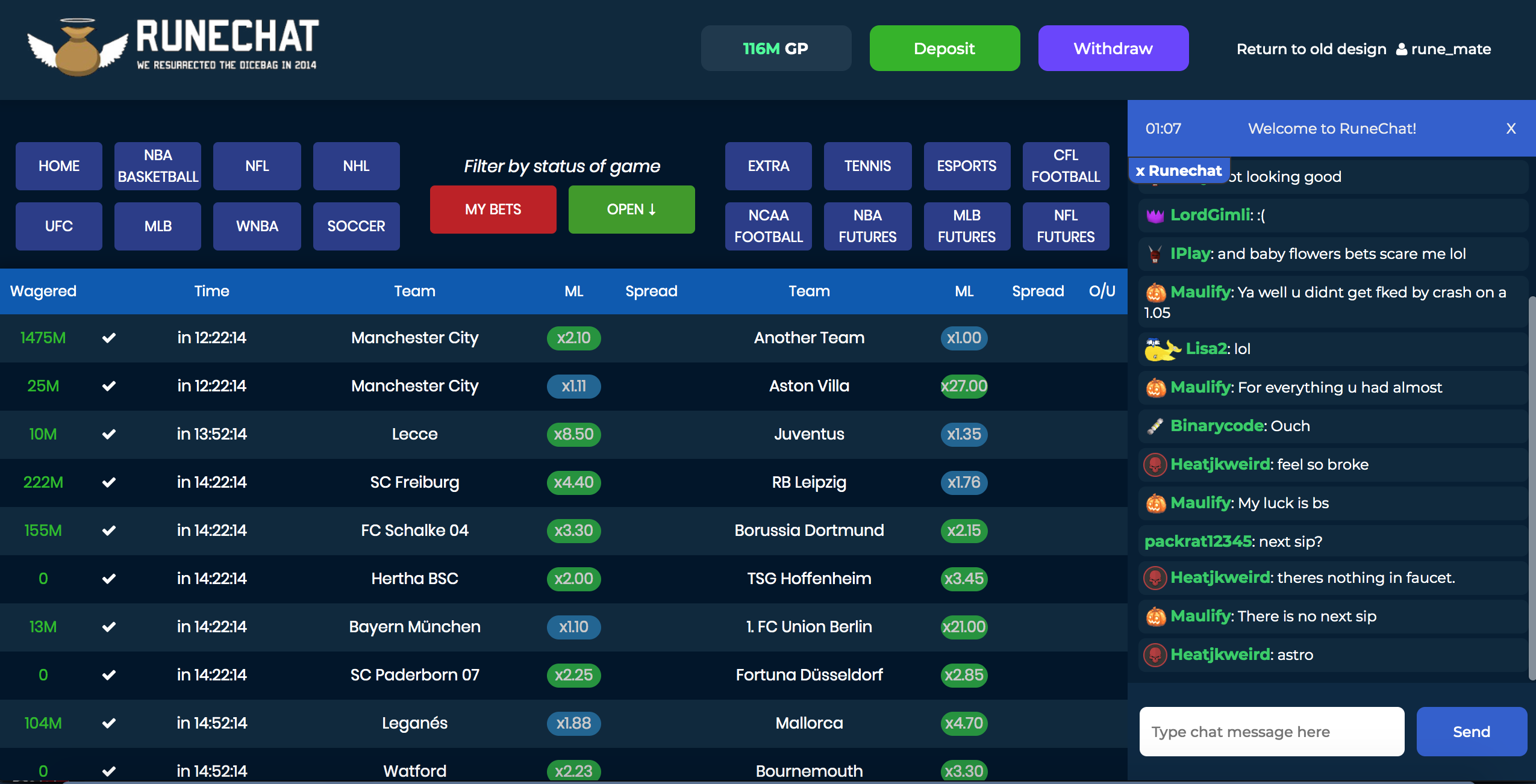 Dice duels where players can gamble against each other, VPoker and a whole section on the site
dedicated to poker and all the different poker game modes you can partake in.
There are also daily free poker tournaments where you could make a hefty buck if you're a skilled poker player.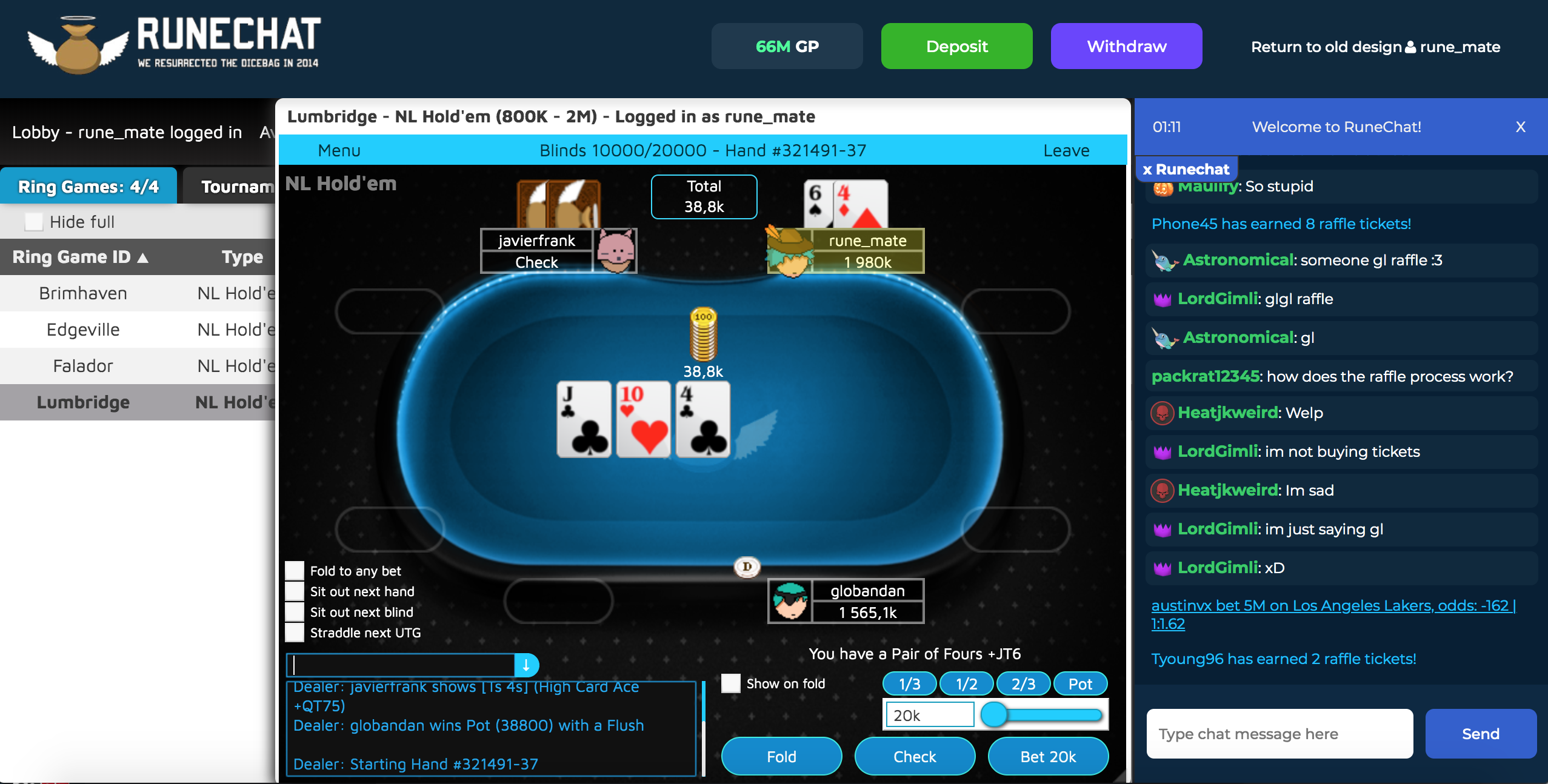 What is so exceptional about Runechat compared to its competitors is that the site offers sport bets
where you're able to bet on all kinds of different sports from around the globe. E-sports, soccer, rugby, football, baseball
and if these are not enough for you, you have the option to request a game, match, fight or parlay.
You name it and a sport moderator will add it for you. Sport moderators are specifically assigned to help out
with sport related services. So if rolling a die isn't your thing and you're a sport enthusiast, sport bets are for you.
Unlike other sites where the burden of the whole site lay on one moderator, the Runechat staff has multiple moderators
that work around the clock all assigned to specific tasks to ensure the satisfaction of the client.
There's a very convenient ticket system in Runechat which allows you get in contact with a site moderator in a matter of seconds
instead of going through the hassle of having to email and wait days to get a response on other sites.
What makes the staff team so great in Runechat is the communication between the moderators and the individual player.
The reason for this is, in order to become a mod you would have to have a good reputation
in the Runechat community and a good history on the site. Runechat's credibility stems
from its authenticity and anonymity regarding the players.
All data and logs from Runechat will always stay on Runechat and will never be shared to any 3rd parties of any sort.
Runechat stores all passwords in a encrypted form which means that no player, moderator or even an admin can look your password up.
Runechat takes big measurements when it comes to the security of the players,
so at registration you write down your own security question and answer, this prevents anyone who without your consent has your account credentials to access your account from another IP address.
Runechat even has its very own poll system very similar to the one in OSRS.
It's a list of suggestions where players are able to share their ideas and make new suggestions into the list regarding the site,
what should be added what should be changed etc. The suggestions are added to a list where other players
can upvote a suggestion or down vote it, the highest ranking suggestions gets examined by the Runechat developers
and results in the suggestion becoming reality.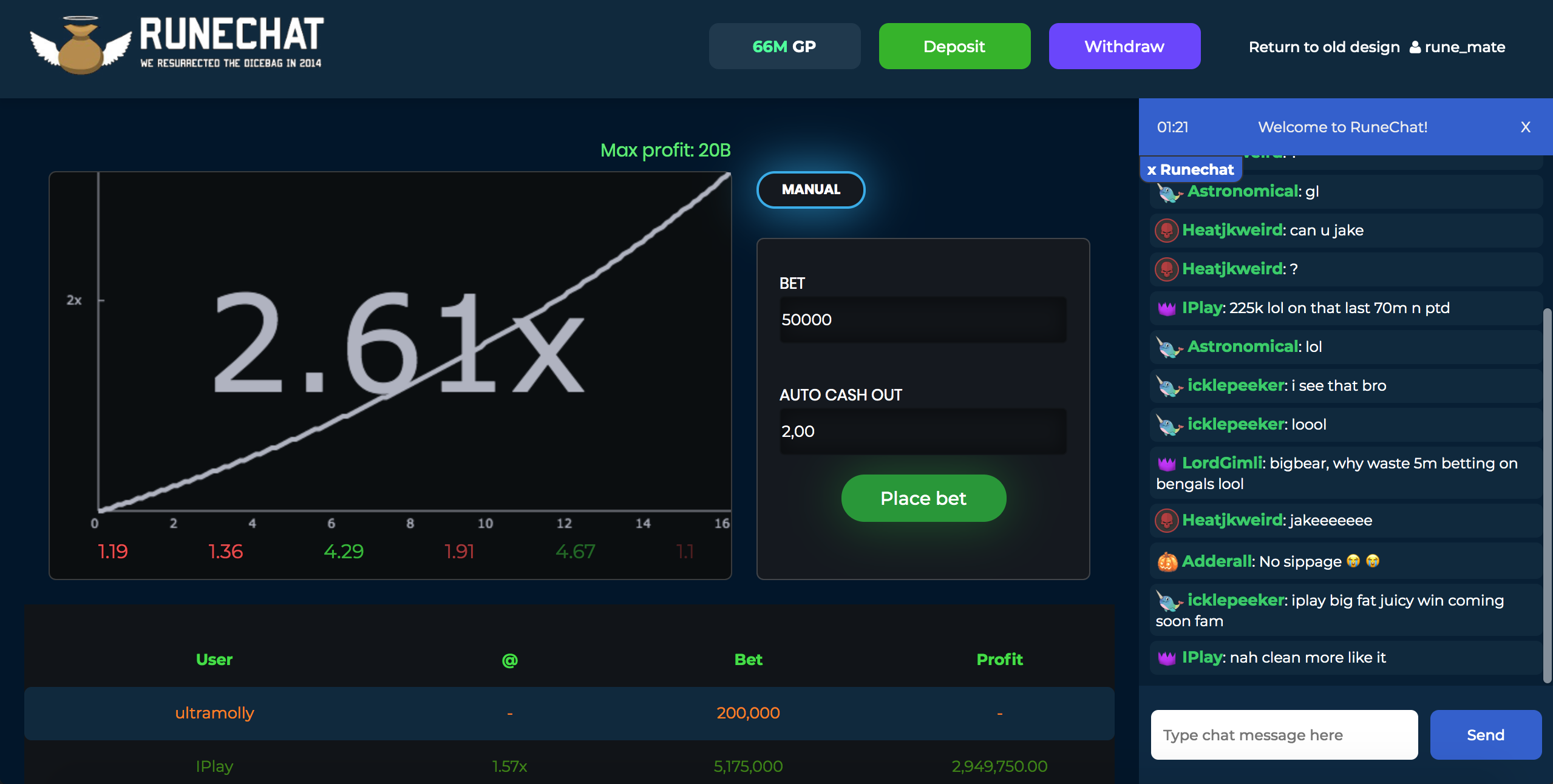 Runechat probably has the most convenient withdrawal and deposit system of all RS related gambling.
All it takes is to head to your profile interface and all different types of transaction options will show up,
pick one type in your name and amount and in the blink of an eye the procedure would be done.
Runechat has a very friendly and active community and a very immersive chat system where you can interact
with the whole main chat or communicate with other users through your own private chat.
Every time you progress on the site and reach new milestones like, 8B total bet you are rewarded with
a hefty icon which shows next to your name.
If you've been behaving and not causing too much stir on the site you're even able to request your custom icon.
Runechat doesn't shy away from assisting players with real life problems, if you were to be suffering from any
kind of depression or anxiety, addiction any kind of difficulties whatever it may be, please reach out to a moderator
who will guide you to the appropriate organisations. Runechat is ought to be a safety point, we are here to help.
Overall Runechat is your go to if you're looking to lay back, relax and have a good time
without having to go through the hassles and inconveniences of other sites.
Click here to join Runechat
---